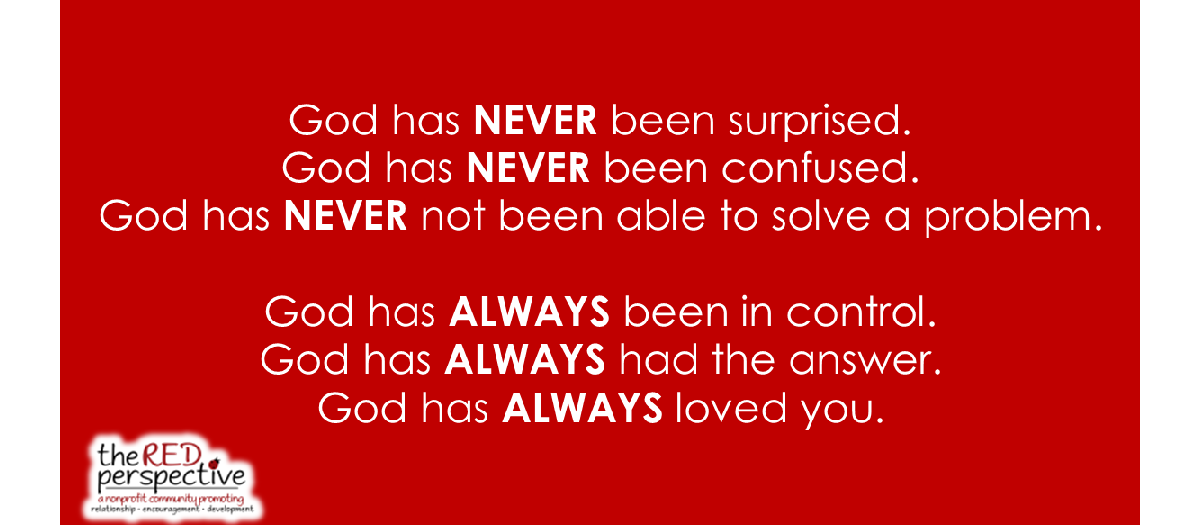 No Surprise
by Lori Hartin on
May 4, 2020
Jesus overheard what they were talking about and
said to the leader, "Don't listen to them; just trust me."
Mark 5:36, the Message
THINK about this...for just a MINUTE.
God has NEVER been surprised.
God has NEVER been confused.
God has NEVER not been able to solve a problem.
God has ALWAYS been in control.
God has ALWAYS had the answer.
God has ALWAYS loved you.
You can't say this about your day, your situation, your life, your ___________. Turn it over the One who has never been surprised, never been confused, never not been able to solve the problem. Release it to the One who has always been in control, always had the answer, and—most importantly—the One Who HAS ALWAYS LOVED YOU.

Two years ago, I had posted the thoughts above on social media. The Lord was seeing me through a time of great uncertainty. And when the memory popped up last week, I couldn't help but consider the irony of these thoughts given our present circumstances as a nation.

God was not surprised by Covid-19. Even though many of us are navigating the uncertainty of this time, our lives as a nation have dramatically changed in such a short time, God is still in control and will ALWAYS be. This health challenge has already been filtered through His hand of grace, and because of that, we can know He has the best answer for our circumstances. It is simply up to us to remember that, trust Him, and PRAY. He has ALWAYS loved us.
back