And The Winners Are...
by Lori Hartin on
July 13, 2017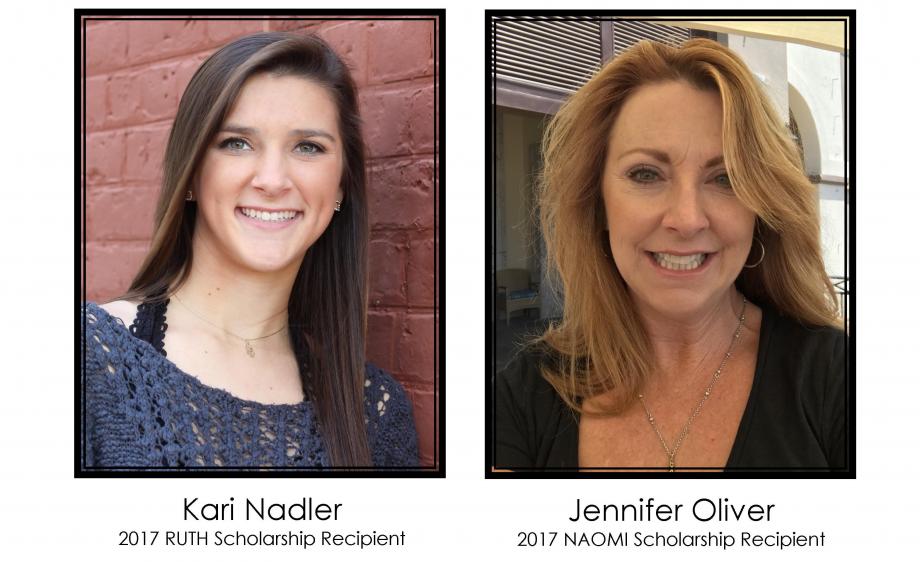 2017 Ruth & Naomi Scholarships AWARDED

WE ARE SO EXCITED to announce our 2017 Recipients of the RUTH & the NAOMI scholarships! The Ruth & Naomi Scholarship programs are part of our efforts to empower women in our world.

This year, our RUTH Scholarship was awarded to Kari Nadler, of Cary, North Carolina. Kari is pursuing a degree in Psychology her state university. Kari's story is a poignant parallel to the young Moabite woman we know as Ruth in the Old Testament. Kari's newfound faith in Christ poised her to be considered a spiritual foreigner in her own family, who did not practice or live out the faith systems to which they claimed to identify. But throught the love and guidance of a friend's family, Kari began to develop her personal walk with Christ, and became a Senior Leader for YoungLife.

Our NAOMI Scholarship was awarded to Jennifer Oliver of Roseville, California. Jennifer is furthering her education by pursuing a graduate degree in Organizational Leadership. Jennifer's own life exemplifies a modern day example of the Old Testament story of Naomi and God's plan to bring redemption to her family. Having navigated the pain of divorce but yet choosing to keep the perspective of a servant heart when interacting with her ex husband, Jennifer experienced God's restorative power firsthand. She now provides mentoring to younger ladies, including frustrated moms, disillusioned wives, and single women.
Ladybug Women's Ministries would like to thank all of the qualified women who submitted outstanding applications. We are honored to help empower these two beautiful women for the work they will do to change the world around them.

If you would like to donate to the 2018 scholarship fund, you can do that at our website. Simply select either Ruth or Naomi under the Give To: option on our donation portal.
back