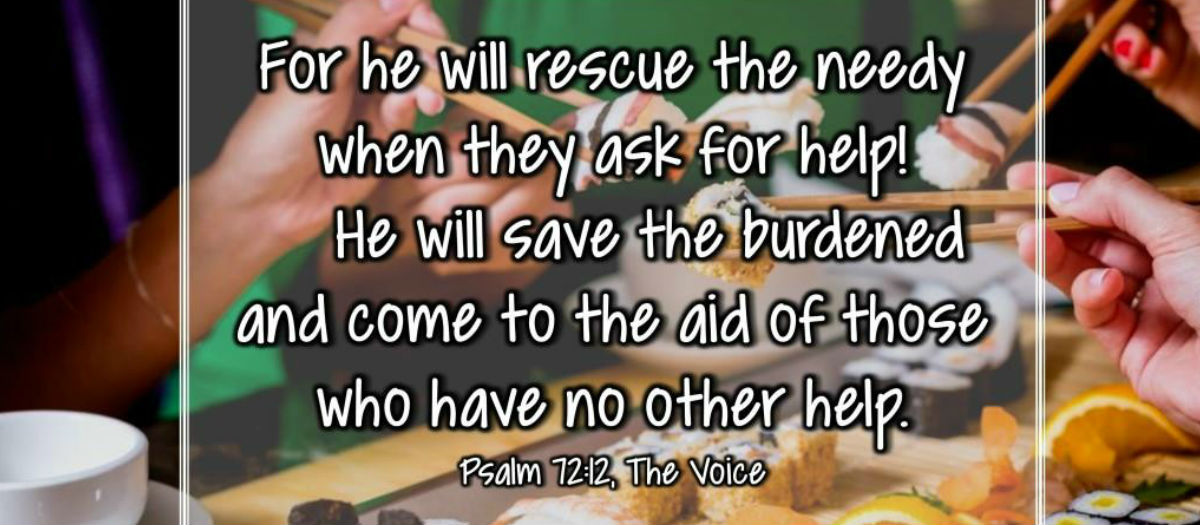 A Meal, a Manager...and a Message
by Lori Hartin on
January 18, 2017
Because sometimes when you just can't seem to go on…God sends a message to remind you that you can.

And because sometimes He knows you've cried enough tears.

Recently, a friend shared with me her experience of juggling a demanding career, parenting, her troubled marriage…LIFE. The past year has brought incredible pain, questions, doubt, and more. It resulted in lots of tears on the commute home and fists banging the steering wheel, with my friend declaring on a Thursday evening, "Okay, God – I'm giving it ALL to you. Everything that is going on, I'm letting go, and letting You take it. I know I've said this before, and I've taken all the worry and stress back, but this time I'm serious. I need You to show up and handle business. I need You to figure out what I can't. Please…HELP ME."

These raw words were spoken just before she picked up her boys to take them to dinner. Tense words with the husband she's been separated from are exchanged, and she's simply trying to hold it together…to have a nice dinner out with the sons that are caught in the middle and staying with dad because it's his week. Driving to the popular sushi restaurant that has just opened, they are all a little disappointed that the wait to get in will be close to an hour, but they choose to make the best of the short weeknight time they have together.

There are jokes, there are refills of lemonade, and the cell phones are put away for now. Text messages and Instagram can wait. Right now, there is good food, laughter, and love. All the while, in the middle of this restaurant that is filled to capacity with upwards to 400 diners, a well-dressed stranger is watching them. He is especially observant of the young boys' courteous manners, and how engaged they are in conversation with their mom.

Approaching their table, he appears to be interested in their satisfaction from a managerial perspective. He attends to making sure drinks are refilled, and that this party of three has everything they need for an amazing dining experience. They thank him politely and return to their meal and conversation.

A short while later, the stranger returns and makes a few remarks. "I've been watching all of you for a while, and I noticed especially that that you all seemed to really enjoy each other's company. I saw that these boys don't have their heads stuck into their phones, they're actually talking with their mom and it has really impressed me. I lost my mom not very long ago, and watching you all tonight brought back some really great memories I have of my time with her. It was a nice feeling. And I just wanted to let you know that you're doing a great job, Mom. Keep up the good work! By the way, your dinner is on the house."

Because sometimes when you just can't seem to go on…God sends a message to remind you that you can…with Him.

And because sometimes He knows you've cried enough tears. He lets you know that He's seen every one of them roll down your cheek.

Through all of the pain, exhaustion, and heartache, my friend was reminded that God is working it out. And of all places…in the middle of a sushi bar. In the middle of chaos, clanging dishes, and everything else that accompanies opening night. In the middle of 400 people. After months of screaming and wailing at heaven, trying to do the right thing, trying to remember to pray, and then trying to remember to pray some more…God used a kindhearted bystander as His way of putting His hand on my friend's shoulder, and saying, "Dear girl, I've got this. Trust Me."

And in the process, she blessed the stranger simply by being…herself. She was able to give him a sweet reminder of precious memories that he can hold in his heart long after a night at the new sushi restaurant is gone.

Dear ones…He's got this. Trust Him.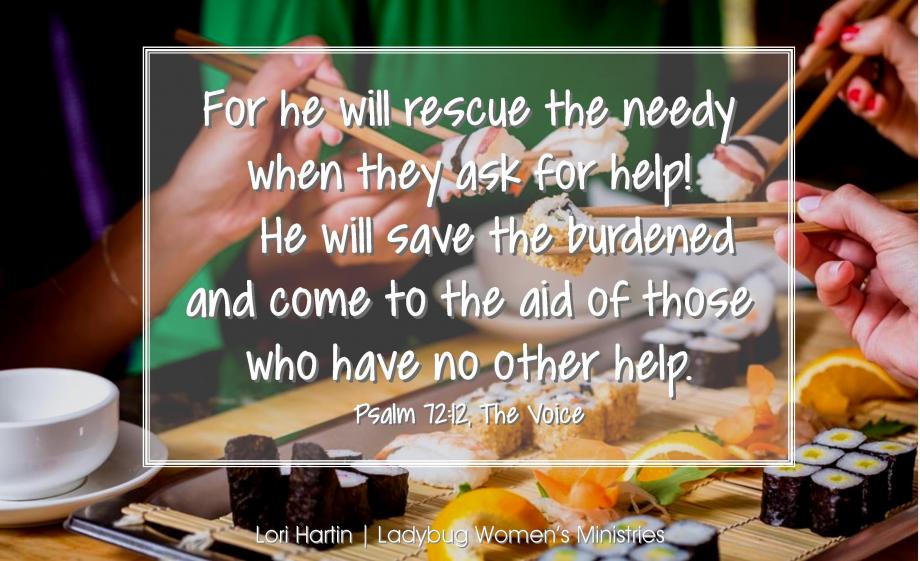 back